Established in 1993, the Association (HCHA) represents providers of home and community health services in New Zealand.
The Association's objectives are to:
provide leadership and advocacy for the home and community health sector
establish, promote and recognise high standards for the conduct of home and community health services
address members' educational and information needs
provide a united voice for the Association's membership, to government and the public
maintain links and provide opportunities for the development of the sector
develop home and community health services that reflect the Association's obligations under the Treaty of Waitangi
Governance
HCHA is governed by a Board. Six members are elected by the membership for their skills and ability to strengthen the home and community health sector. Two further independent members are appointed by the Board following a nominations process.
Board members are elected to serve two year terms, for a total period of three consecutive terms of two years.
The current Board is:
Andrea McLeod (Chairperson), GM Strategic Change, Presbyterian Support Northern
Andrea McLeod is Chair of the Home and Community Health Association and has been a member of the HCHA Board for over eight years. With a background as a Registered Nurse, Andrea has held a number of senior roles in the health sector and has been involved in the Home and Community sector since 2006. Andrea is employed by Presbyterian Support Northern as General Manager, Strategic Change.
Graeme Benny (Independent), Various Directorships
Dr Benny trained in clinical biochemistry and clinical microbiology at Auckland University.
While clinical biochemistry/microbiology was his first and enduring clinical passion he very quickly moved from clinical research into executive management in the NZ public hospital system. His career then spanned significant periods as a senior executive (CEO, COO, GM) in both public and private sector organisations, in human and animal pharmaceuticals and therapeutics, the human biotech industry, our public hospitals, Counties Manukau and Auckland District Health Boards, as Director/CE of Health Workforce New Zealand (part of the Ministry of Health), CEO of the New Zealand Blood Service and COO of the New Zealand Defence Force.
Graeme is currently Chair and Director of several private and public sector organisations, including Leecare Pty, the NZ Accreditation Council, Ako Aotearoa and the Home and Community Health Association. Graeme has a passion for the health sector and many years' experience of both the 'excellent' and the 'needs improvement' elements of our current health systems. His primary professional interests include improving health management processes and systems and implementation and integration of novel IT applications to healthcare for both the public and private sectors of our health systems.

Alison Van Wyk CEO, Access Community Health
Alison is the CEO of Access Community Health. Alison has a background in nursing, and her previous role was as Group Manager, Professional Services for Green Cross Health Medical and Pharmacy Divisions. Ms Van Wyk has a background in nursing and possesses sales, marketing and management experience within the pharmaceutical, medical device and healthcare supply chain markets both within New Zealand and internationally.

Murray Penman, National General Manager, VisionWest Community Trust
Murray is the National GM at VisionWest in Auckland, commencing this role in September 2019. Previously he held various positions at Ministry of Health over 17 years, most recently in Disability Support Services.

Donna Mitchell GM, Service Development & Strategy, IHC NZ
Donna's role as General Manager Service Development and Strategy & Human Resources for IHC focuses on understanding the changing environment within the disability sector and helping to ensure IHC is in the best position to meet people's expectations.
In a career spanning over 30 years, Donna has previously held management positions across the health and disability sector. She offers a wide breadth of experience and knowledge in rehabilitation, mental health, older people, long-term conditions and disability support, as well as human resources.
For Donna, measuring IHC's success has always depended on the quality of lives of the people IHC supports, by empowering people with intellectual disabilities to live full lives as valued members of the community.
Shelley Cunningham Chief Financial Officer, Te Puna Ora o Mataatua
Ngati Awa, Whakatohea, Tuhoe, Ngati Porou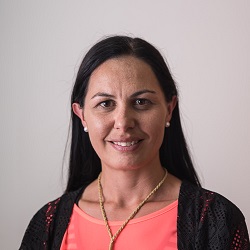 Shelley is a qualified Chartered Accountant and is enrolled as a Barrister and Solicitor of the High Court of New Zealand. She has an extensive background in providing business advisory, accounting and management consultancy to a diversified range of businesses and industries. In recent years most of her time has been spent working with Maori incorporations, trusts and post-settlement governance entities.
Shelley is the Chief Financial Officer and Deputy Chief Executive Officer for Te Puna Ora o Mataatua, a kaupapa Maori Charitable Trust delivering Home and Community Health and ACC services across the Eastern Bay of Plenty. She is also the Chief Financial Officer for Whakatane Medical Practice Limited (Med Central), a General Practice located in Whakatane.
She held a governance role with Te Manawa Pou Tahi – Tauranga Maori Business Association for 5 years and currently sits on a couple of Ministry and DHB working groups within the home and community health sector. Shelley is committed to the home and community health sector and ensuring equitable outcomes are achieved.

Meng Cheong Chief Executive, Healthvision NZ Ltd
Meng has a Bachelor of Economics, majoring in Accounting, from La Trobe University in Melbourne, as well as a Master of Business Administration from the University of Auckland. Meng has enjoyed more than 20 years experience in the New Zealand health sector in a variety of roles encompassing finance, strategy, business development and operations management. Meng began his career in health at the Auckland Area Health Board as Manager, Corporate Finance. Meng joined Healthvision after six years with Northland DHB where he was General Manager, Finance, Funding and Commercial Services.

Julie Haggie (Independent)
Julie has 20 years of working at senior level/CEO in the NGO and professional body sector. She is currently CEO of Transparency International New Zealand, the NZ chapter of a global anti corruption organisation.
Prior to that, for eight years, she was CEO of the Home and Community Health Association, through the initiation of pay equity, in between travel and regularisation claims and negotiations.
Julie is delighted to be appointed as an Independent Board member. She brings governance experience from several years on the Careerforce Board, and voluntary governance roles including Hui E! Aotearoa.
The Chief Executive of the Association is Graeme Titcombe.

---