---
About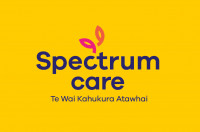 Vision:
Every person with a disability deserves a life of choice, freedom and independence
Home Support
Home support is a personalised care option delivered in the comfort of your home.
Spectrum Care Home Support gives whanau and caregivers an opportunity to spend time with other family members.
They support a range of educational, emotional and behavioural needs, helping to build life skills, achieve personal goals and to develop community networks and integration.
This is no ordinary role. They work hard to assign the right person to be part of your home environment; one who will build a trusting, valuable and enjoyable relationship with all of the family.
Home Support provides help with:
Developing a person's skills,

including

handling money, cooking and making friends;

Accessing the community, from

joining clubs and teams to learning bus routes;

Helping educational goals,

from

helping with homework to assisting to

enrol

and achieve at school;

Matching the person with a buddy who will join them in a range of activities.
Spectrum Care work with each family to provide a service that takes all individual needs into consideration, no matter how complex.
Holds current Certification to:
NZS 8158: The Home and Community Support Sector Standard.
---
Physical Address:

Level 2, 205 Great South Rd
Greenlane, Auckland 1051


---
Contact Address:

PO Box 74422
Greenlane
Auckland 1546
---
Contact details:

Telephone: 09 634 3790
Fax: 09 634 3791
Email: info@spectrumcare.org.nz
Website : www.spectrumcare.org.nz
---
« Back