---
About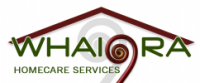 "Whaiora" literally translated means "in pursuit of or the search for life, safety and good health. These ideas, along with the desire among the Maori of Otara to facilitate their own home care program for Kuia and Kaumatua saw the inception of the first Maori pilot program of "Whaiora Kaumatua 60s plus" in September 1988.
Whaiora Homecare Services Inc is a Maori Provider Agency, contracted and funded by the MoH to provide home and community based services to people with disabilities in the Counties Manukau area of South Auckland. Whaiora works within the Articles of the Treaty of Waitangi to provide culturally aware, sensitive and safe services to clients within their own homes and communities.
Coverage
Counties Manukau districts
Contract Services
Counties Manukau DHB Ministry of Health - Manukau City
Private Services
Private Services available
Holds current Certification to:
NZS 8158: The Home and Community Support Sector Standard.
---
Physical Address:

16 Ryan Place
Manukau
Auckland 2104
---
Contact Address:

PO Box 200 081
PAPATOETOE Central 2156
---
Contact details:

Telephone: 09 263 7792
Fax: 09 263 7747
Email: admin@whcs.org.nz
Website : www.whcs.org.nz
---
« Back