Enliven- Presbyterian Support Services South Canterbury (Provider)
---
About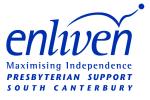 Presbyterian Support South Canterbury's Enliven Service, provides personal care and domestic assistance with a restorative focus for people living in the South Canterbury region. Our dynamic team includes eight Registered Nurses, six Administration Coordinators and 115 Support Workers who participate in ongoing training to ensure a quality individual-focused service to our clients. We provide that support through our three excellent services: Home Support, Community FIRST and HomeFIRST.
Home Support
Housework and personal care tasks become more difficult when you are recovering from surgery, short term illness, disability or have an age-related condition. Short or long term support can provide relief from this work, allowing you to retain your independence while remaining safe in familiar surroundings.
Community FIRST
Enliven Presbyterian Support is the sole provider in South Canterbury of Community First home-based care. This is an alternative to rest home living as Community First is available to people who have been assessed as needing rest home level of care, hospital level of care or have a dementia diagnosis, but who choose to stay living in their own home.
Our team of dedicated Registered Nurses and Support Workers are just as skilled working in the community as they are in rest homes.
We work within a 'restorative care' model, focusing on your strengths, abilities, needs and goals to help you improve and/or maintain your physical and psychological health and continue to live as independently as possible.
HomeFIRST
Our HomeFIRST service provides intensive, short term support for clients transitioning from hospital back into life at home. HomeFIRST is a 'wrap around service' that can remove the need for hospital admission by being able to take acutely unwell clients from either ED (hospital emergency department) or GP (General Practitioner) practice. HomeFIRST can also facilitate an earlier patient discharge from medical, surgical or AT&R wards.
Coverage
The South Canterbury DHB region from the Rangitata River in the North to the Wataki River in the South and across to the Southern Alps in the West. Towns include Timaru, Temuka, Geraldine, Pleasant Point, Fairlie and Waimate.
Contract Services
Personal and Domestic care with South Canterbury DHB and the Ministry of Health.
Private Services
We will provide domestic and personal care as requested.
Holds current Certification to:
NZS 8158: The Home and Community Support Sector Standard.
---
Physical Address:
23 North Street
TIMARU 7910
---
Contact Address:
PO Box 278
TIMARU 7940
---
Contact details:
Telephone: 03 687 1117
Fax: 03 688 1562
Email: csadmin@pssc.co.nz
Website : pssc.org.nz
---