---
About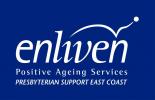 Presbyterian Support East Coast (PSEC) delivers $11 million worth of vital social services throughout the East Coast region, with the help of 220 staff and over 200 volunteers.
PSEC is one of seven autonomous regional organisations making a difference together across New Zealand under the Presbyterian Support banner.
As the social arm of the Presbyterian Church, PSEC provides counselling, social work and parenting programmes for children and families subjected to poverty and family violence through its Family Works service; as well as an array of programmes to elderly and disabled people who need assistance to live a more fulfilling life through its Enliven service.
Enliven Home Support
Enliven Intensive Home Support provides specialised care, individually tailored to each client's specific needs. Our friendly support workers are trained to deliver practical assistance with day-to-day needs, as well as the emotional support and encouragement that can make such a difference.
We focus on restoring the physical, mental and social well-being of the people in our care. The goal is to work in partnership with our clients in a way that maximises their independence and helps them achieve their goals.
Enliven is the only service of its kind that gives you access to a team of experts, including a dietitian, physiotherapist, occupational therapist, speech therapist and social worker.
Enliven Intensive Home Support is funded by the Hawke's Bay District Health Board, but even if clients don't qualify for funding, they can be provided with a private payers' rate. Ask your doctor to refer you to Enliven, or speak to the Enliven team.
Enliven also provides day programmes to over 200 people each week, for people to socialise, share a meal, and participate in activities and exercise to reduce falls. Clients are encouraged to challenge themselves, and they have achieved some outstanding results.
Holds current Certification to:
NZS 8158: The Home and Community Support Sector Standard.
---
Physical Address:

87 Te Mata Road, Havelock North
4157, Hawke's Bay
---
Contact Address:

---
Contact details:

Telephone: 06 877 8193
Fax: 06 877 4681
Email: admin@psec.org.nz
Website : psec.org.nz
---
« Back